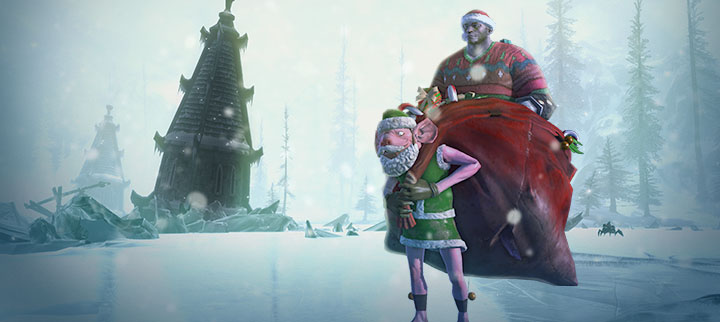 Get ready for the most festive time of the year in Telara! Greatfather Frost has arrived and brings back Fae Yule for 2020!
The World Event begins today, December 10, 2020 at 3:30 PM local server time and will conclude on Thursday, January 7, 2021 at 3:30 PM local server time.
Participate in the Fae Yule festivities to earn Unique Snowflakes and Dark Icicles to obtain all the new items!
Fae Yule 2020
What awaits you in this year's Fae Yule event? See below!
The event will have three distinct phases that start on the following dates:
– Phase 1: Thursday 10th of December at 15:30:00 local server time
– Phase 2: Thursday 17th of December at 15:30:00 local server time
– Phase 3: Thursday 24th of December at 15:30:00 local server time
– End of the event: Thursday 7th of January at 15:30:00 local server time
The Fae Yule Store will be active from:
– Start: Thursday 10th of December at 08:05:00 local server time
– End: Thursday 14th of January at 08:00:00 local server time
Adjustments
The price of previous year's pets and minions has been lowered permanently.
New Essences
Push the limits of your essences with the new Seraphic Zephyr and Seraphic Torrent Unique essences, with a focus on each of the main stats.
Shadowpriest (WIS), Shadowcaller (INT), Shade Stalker (DEX), and Death Knight (STR) versions are available.
New Vanity and Mounts
The Fae whisper about the evil alchemist that lurks in the dark hunting those boglings that have misbehaved this year. Remind them about their folk tales with the Nebulous Omen Cape or the Infinity Flask vanity items.
Nebulous Omen Cape

Infinity Flask
Always loved the starry nights in Telara? The new Astral Wings and the Astral Voyager levitation mount are here to immortalize its beauty! But if you prefer to see the stars by yourself, get on top of the Mighty Woolly Explorer, our new mount, and travel to the highest mountains to enjoy the view. Remember to stay warm though, or you will end up looking like our new Icy Levitation, a special levitation that makes you frosty!
Astral Wings

Mighty Woolly Explorer

Astral Voyager

Icy Levitation
Please note: The account-wide version of Icy Levitation will be available at a later date.
New Minions
Welcome Mr.Quackers and Leah the Cool to the roster of minions! These two old pals are still looking for their long lost friend Frosty Paws.
Collect both minions to unlock the exclusive title "Winter Spirit" and level them both to level 15 to unlock the minion "Frosty Paws"!
New Pets
The forecast from the Icewatch was correct. This winter is going to be one of the coldest in Telara, and the patrols are starting to find out all kinds of frozen creatures.
Consider adopting one to warm it up? The new frozen pet set is available! Collect Flurry, Snowfall, Drift, Avalanche, Slush, Tundra, Powder, Glacier, Sleet or Rime!
Tundra

Snowfall

Slush

Sleet

Rime

Powder

Glacier

Flurry

Avalanche

Drift
Want to find out more? Check out our >>FAQ<< on how to get started!
Happy holidays, Ascended!