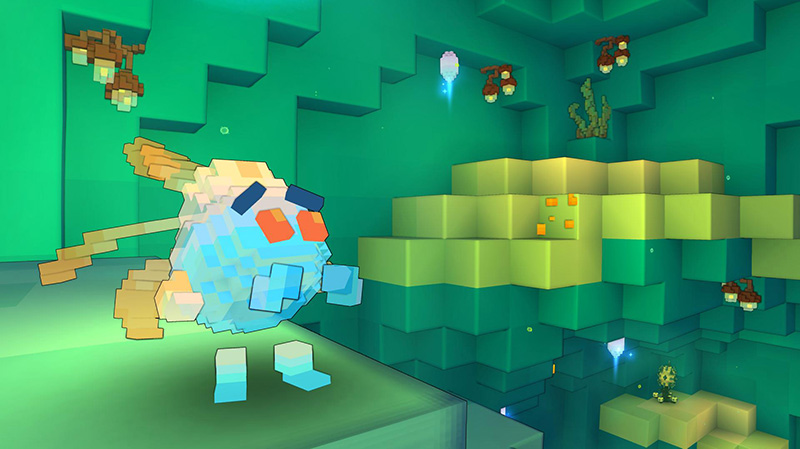 Explore an intertwining network of caves or blast your fellow Trovians in the new Bomber Royal mode in the latest Trove expansion!
The latest Trove expansion, Geode (www.trovegame.com), is launching today! In the latest update to Trion Worlds' voxel MMO, players will find themselves on a brand new planet with a seemingly endless network of caves to explore. The new free expansion also introduces an all-new Bomber Royale mode, a fast and frenetic free-for-all mode where players enter a battlefield and chuck bombs at each other until only one Trovian is left standing.
Built with a wholly distinct feel, Trove – Geode is the next chapter in the Trove universe, with combat taking a backseat to exploration, as players discover new collectibles and companions, embarking on story-driven quests through Geode's maze of tunnels and cave systems. Players will climb to epic heights of Mastery, reaping the rewards and amassing a collection of styles to customize their look through a massive selection of weapons, costumes, hats, mounts, wings, and more!
The world of Geode is filled with weird and wonderful lifeforms. Players will find eggs throughout Geode's labyrinthian caves, hatching them into companions that will accompany them on their journey and reward them with special benefits on their journey.
This first phase of the expansion tasks players with collecting and exploring the caves of Geode, but their mission to save the planet will begin in earnest later this year. Collect items, gather companions, and prepare yourselves for the ultimate showdown for the planet's future!
Geode launches alongside a new action-packed competitive mode, Trove: Bomber Royale. A quirky spin on battle royale gameplay, Bomber Royale has up to 20 players armed with a variety of different bombs to hurl at each other, decimating the terrain and laying waste to their opponents!
Trove – Geode releases today, June 26. Trove is available on PlayStation 4, Xbox One, and PC. For more information on Trove, please visit www.trionworlds.com/trove, and for information on Trion Worlds and its library of titles, please visit www.trionworlds.com.