PRIME REALM
The Sun Goddess's light still shines strong throughout the Prime Realms, home to wonders around every corner. Brave Trovians can venture to spectacular lands, from hill to highland, tundra to desert, and more. But be wary – dangers still lurk in the shadows.
---
SKY REALM
Once the stronghold of the mighty Sun Goddess, this blasted realm now hides the secrets of the ancient Elysians. Take to the air and traverse this majestic collection of islands to gather rare treasures that will aid you in your quest to beat the evil armies of Shadow!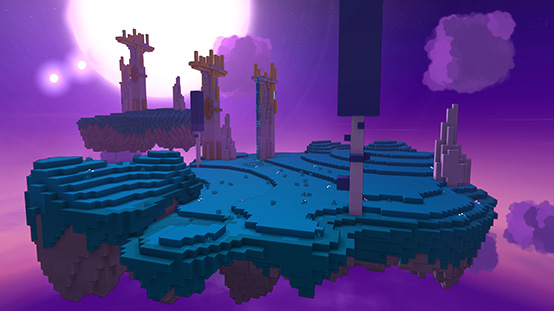 Radiant Ruins
These iridescent ruins suspended over the stormy seas are filled with relics of the time before the Sundering. Each sky island is covered with ancient traps and holds important treasure: runic knowledge of the Elysians filled with mysterious powers. A special portal to these realms awaits bold adventurers who wish to explore the secrets hidden in these once-hallowed halls.

---
SHADOW REALM
Darkness dominates the Shadow Realm, a land of eternal night, where dark forces seek to destroy the last remnants of the Sun Goddess's light. Brave Trovians should seek out these lairs and root out the darkness at last… but be sure to bring friends!