Player Creations
Have a creative side you'd love to express? Dying to get your hand-crafted Flamingo Falchion into the mitts of loot-crazed adventurers? Come build with us and let your imagination run wild. Your creations could become part of the game!

---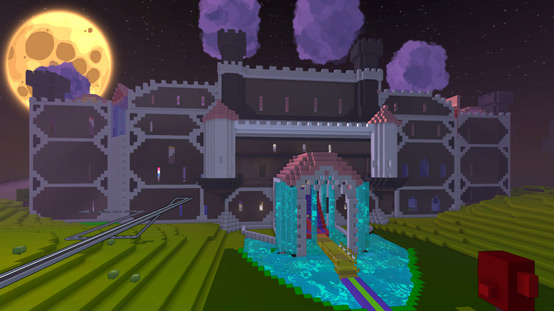 Build like a Boss
Using a voxel editor, you can forge and submit a huge range of items for use in Trove: hats, swords, guns, masks, décor, dungeons, lairs, and more!
Just check out Trovesaurus to get started. There are tons of talented creators with experience to share just waiting to help you out. And if you're not ready to flex your creative talents just yet, drop in anyways to join in the discussion about other in-development creations.

---
Dungeon Masters Wanted
Are you a grand architect of all-things-voxel? Flex your mighty design skills by building entire Dungeons and Lairs brimming with traps and enemies to conquer. Attempting these larger creations isn't for the faint of heart, but once finished they represent the pinnacle of player participation in the development of Trove. Visit Trovesaurus to learn more.