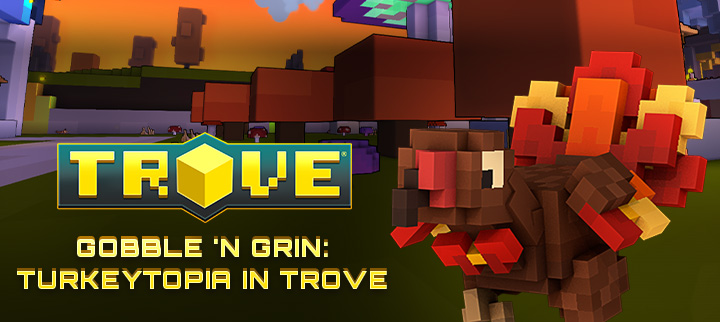 Greetings, Trovians! Friendsgiving is just around the corner, and there's no better time than now to take on fun challenges to earn cube-tastic rewards! Starting today and running until November 29, 2023, enter our contest on Gleam.io. Take on as many different challenges as possible to increase your chances of winning 3,000 Credits!
Turkeytopia Screenshot Challenge: How do I enter?
Participating in the screenshot contest is simple. Follow the steps below:
Head into Trove and capture a screenshot of your favorite in-game landscape that embodies the spirit of autumn or Turkeytopia.
Open Gleam.io and enter the raffle.
The more points you collect, the better your chances of getting a big reward!
Share your favorite landscape/Turkeytopia screenshot on Facebook, Twitter, or Instagram using the hashtags #Turkeytopia, #TroveGame, and #MMORPG. Don't forget to verify your entry on Gleam.io!
You're all set!
Are there any rules?
Your screenshot must be aligned with the autumn theme.
While some image editing is allowed, your entry must remain clear and fully visible.
Entries that are inappropriate or offensive are strictly prohibited.
What are the rewards?
Up to 3 fortunate Trovians will receive 3,000 Credits to buy their favorite items in the store!
Winners will be contacted via email on December 4, 2023.
General Terms of Participation apply.
What are you waiting for, Trovians? It's time to gobble 'til you wobble!
Autumnal regards,
Your Trove Team.