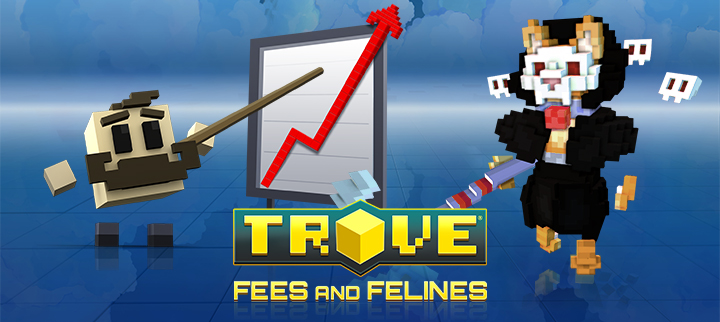 Greetings, Trovians,
are you feeling good today?
We hope so because the Fees and Felines update is now available for PC!
Marketplace update
With this update, you may notice a small fee and tax have been added to the Trove Marketplace, we made this change to help alleviate the current Flux inflation issues and discourage flipping.
You can find a more in-depth clarification here and more details in the patch notes!
The Nekonomicon and Fiona Catastra 😺
Some Trovians say the Nekonomicon can be crafted, doing so will allow you to charge this new tome and once that's done, you will be granted the Gravesight buff, allowing you to see Fiona Catastra in the Adventure World Outposts.
Fiona holds a bunch of wares at outrageous prices and she only deals with bones, so be sure to stock up to get that item Fiona holds in her grabby paw!
More details on Fiona Catastra and the Nekonomicon are available in the patch notes!
New Dungeons, New Styles and more!
It's time for a new adventure!
New dungeons in the Permafrost, Neon City and Geode Topside!
But that's not all, a whole bunch of new styles made by fellow Trovians like you have been added!
Full list of new dungeons, styles and more changes are available in the patch notes!