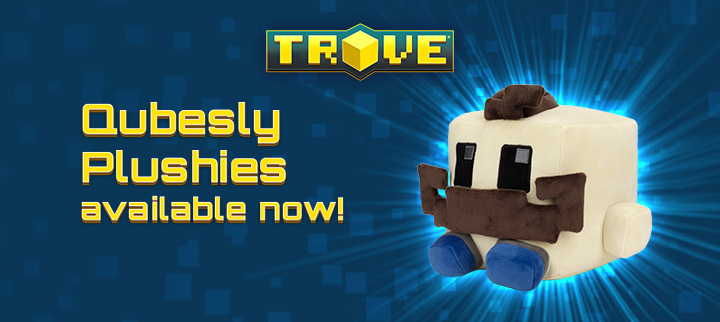 Hello! I'm Qubesly, your very own personal cubit butler plush. I can assist you in sleeping better, having the best cuddles, or even just decorating your room. Order me now and I'll be on my way soon!​

In partnership with Makeship, we're extremely excited to announce that the first-ever Trove plushie is NOW AVAILABLE for pre-order!

But that's not all! Everyone who purchases this limited edition Qubesly plushie will ALSO receive a code for an exclusive FREE in-game Plushsly ally in Trove as well!​


DETAILS
Pre-Orders Start: Tuesday, November 29, 2022 at 6 PM GMT
Available Until: Tuesday, December 20, 2022 at 6 PM GMT
Includes:
• Qubesly Plushie
• FREE Exclusive Plushsly ally in-game


FAQ

How does it work?
The Qubesly plushie campaign is now live on Makeship's website. The plushie is available to pre-order for 22 days.

So this is limited time?
Yes, this Qubesly plushie and the accompanying in-game Plushsly ally will never be offered for sale again. The only way to get either of them is to order a plushie within the 22-day campaign timeframe. Don't miss out!

When will I receive my Qubesly plushie?
You'll receive your plushie about 12 weeks after the campaign concludes. You can find an estimated ship date on the plushie product page on Makeship's site here.

When will I receive my in-game Qubesly plushie code?
If you purchased a Qubesly plushie from Makeship's website during the campaign timeframe, you will receive a code for your free in-game Plushsly ally on a card, together with the Plushie.

Where does Makeship ship to?
You can see a full list of the countries Makeship ships to here.

What if I have other questions?
Please see Makeship's FAQ page for any questions you might have. If you have any further concerns or run into any ordering issues, please contact Makeship's support team.
**All sales are final and non-refundable. For more information about the plushie materials, care instructions, etc… please see the product page on Makeship's website here.**