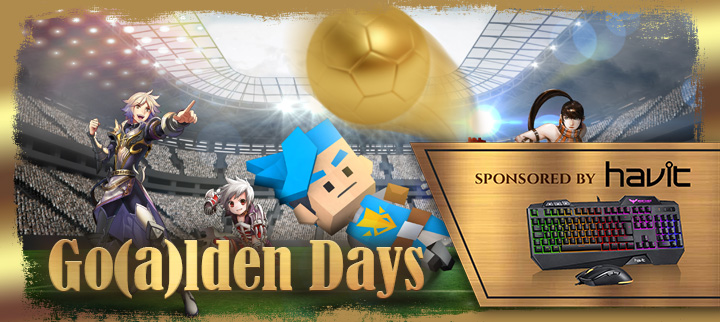 Hello there!

Due to technical difficulties, the Go(a)lden Days Twitch stream will not happen, we apologize to all of you who were excited for a fun evening.

But we still have some Go(a)lden winners at hand! Congratulations to the three lucky winners of our global Go(a)lden Days Event!
Winners
| | | |
| --- | --- | --- |
| GT-5PFS-NGAG | Fiesta Online – Iyzel | CeldeX |
| GT-QHHU-BWSP | Trove – PC | cherrythelad |
| GT-PDPL-9DTA | Aura Kingdom – Aurora | ThehikiMarsun |

Are you the grand winner of a HAVIT keyboard and mouse gaming set?
Be sure to check your inbox for an email (Title "Go(a)lden Days: Winner") from us, you might be the lucky one! *
Thank you for taking part in the Go(a)lden celebrations, see you next time! 
*Should you have won the prize, please get in touch with us within 2 weeks (December 16, 2022).  
Your Trove team
No more goalkeeping these awesome events! Take the trophy home this November by participating in our Go(a)lden Events! As you participate, you will collect Go(a)lden Tickets! These Go(a)lden tickets will help get you one step closer to the big hardware prizes sponsored by HAVIT!
3x Havit Gaming Keyboard and Mouse Set
Feeling lucky?

FUN EVENTS! BIG REWARDS!
Trovians! Are you ready to score big? We're giving away Go(a)lden Tickets and every Go(a)lden Ticket you collect is worth one entry. The more Go(a)lden Tickets, the higher the chances you have at taking home the big prize!
WHEN?
This event starts: November 15, 2022
This event ends: November 30, 2022

HOW DO I GET TICKETS?
🎫 Login and play
Each day, random players at random times will be selected to receive their Go(a)lden Ticket. The Go(a)lden Ticket will come in the form of a code, so be sure to keep it somewhere safe! (Lucky players will receive their code via private message or ingame mail)!
🎫 Moderator events
🎫 Tune in to Twitch
🎫 Participate in our screenshot event
EXCITED FOR MORE?
• We are hosting a separate screenshot event at this time that will give you the opportunity to earn more Go(a)lden Tickets.
• Log into Trove each day to receive a surprise item that will help you celebrate our G(o)alden Days.
Note: Your account must be 7 days or older to be eligible for the item(s).
• In addition, we are glad to announce the return of Twitch Drops for Trove! By watching your favorite streamers play Trove on Twitch during the G(o)alden Days, you will be able to receive a Larry Candylion mount & much more!

HOW TO PARTICIPATE IN THE SCREENSHOT EVENT
We've made it super easy to participate,
Take a screenshot of a circular object within Trove.
Post your screenshot to Trove's event channel OR submit your screenshot to the Trove forum.
Look out for Go(a)lden Ticket raffles each week.
PRIZES!
We are excited to give away cool new hardware! Be sure to collect as many tickets as you can to solidify your chances! Winners will be announced live during our gamigogames Twitch Livestream on December 2, 2022 at 10 AM PST, 7 PM CET, 1 PM EST. SAVE THE DATE!
Prizes include:
3x Havit Gaming Keyboard and Mouse Set
INTERESTED? CATCH US LIVE!
Find out more about the event and get started on earning your Go(a)lden Tickets by catching the introduction stream November 15, at 10 AM PST, 7 PM CET, 1 PM EST.!

We will have another livestream at the end of the event December 2 at 10 AM PST, 7 PM CET, 1 PM EST, where the winners will be revealed.

GO(A)LDEN DEALS
Look out for special deals running from November 21, 2022 – November 28, 2022!

CONTENT CREATORS
Content creators, please fill out the following form and receive Go(a)lden Tickets to giveaway to your community during the event:
Fill out this form
Let the games begin!
Our Rules, Terms of Participation, and Privacy Policy apply.
Your Trove Team ✨