Get ready to fight the forces of shadow in previously undiscovered lands and with a brand-new Expert Class – the Vanguardian! Trove – Heroes arrives this Spring!

Vanguardian
With great power comes great responsibility and the Vanguardian is a beacon of both. Capable of fighting the forces of evil face to face in melee combat or from a distance with potent ranged attacks the Vanguardian is a new breed of Trovian. Unleash new, fluid combat animations, unique visual effects, and a distinct character model to stand out from the crowd.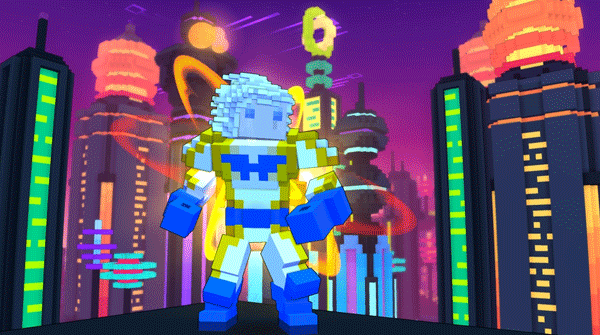 Luminopolis
When Trove – Heroes is unleashed you'll discover a new, technological metropolis inside the Neon City biome – Luminopolis! This high-tech marvel is home to towering skyscrapers and a war between the dastardly Amperium and the Resistors.
The Amperium are single-minded, conquest-oriented robot overlords that once ruled over the Neon City. They are led by the hyper-intelligent and dangerous Ampress C4SS-NDR4.
A group of rebels, the Resistors consist of Kami (robot/spirit hybrids) fighting to liberate Neon City. Trovian heroes lead the charge as the Resistors face off against the Amperium!
You'll find Outposts in Luminopolis as well. This new building is home to 1-2 Resistor NPC that offer Neon City Adventures to players as well as Resistor Crafting Benches. Use these unique benches to craft hero costumes, Lesser Resistor Caches, and more!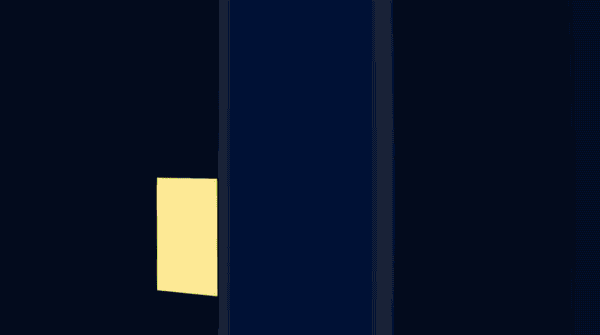 Mega World Bosses
We're taking Challenges to new heights! Prepare to combat towering Mega World Bosses (MWB) as Rampage Alerts are unleashed upon Trove as a new form of hourly Challenge.
There are three types of MWB available when Heroes launches and you, and your Trovian friends, will team up to stop their assault on Luminopolis. As the name implies these bosses are tough to take down, but if you succeed you'll earn materials to use for crafting in the Resistor Crafting Benches.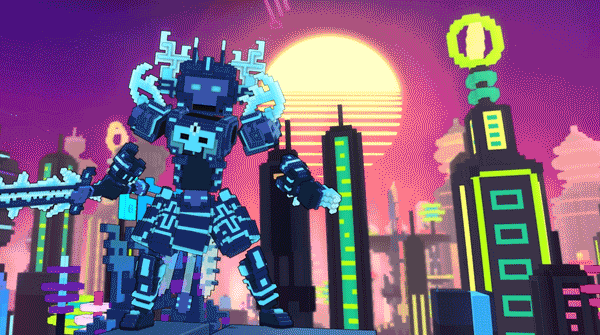 Beacon of Heroes
Club leaders rejoice! Introducing the Beacon of Heroes. These are a new style of utility fixture you can purchase for your club when it reaches level 4. Adding a Beacon of Heroes spotlight fixture adds a new NPC to your Club Adventures pool.
Once you've upgraded this fixture to level 2 you'll earn the ability to throw down a Beacon of Heroes. Beacons do more than just sound like "bacon" they also let you call down a Mega World Boss in your Club World! Defeat this powerful invader to unlock more rewards!
This is undoubtedly a lot of information but there is so much more to say. We'll continue to provide new details in the weeks ahead on the road to launch. Same Trove time. Same Trove channel. When Spring comes we can all be heroes!