Logging into Trove and adventuring through its vast worlds is its own reward – but, on top of that reward are a stack of new ones!
Winter Extravaganza Daily Login Rewards
Login every day between now and Monday, December 18 to receive free loot!
December 12 – 10 Dragon Coins
December 13 – 7 Chaos Chests
December 14 – 3 Bound Brilliance
December 15 – 1 Empowered Gem Box
December 16 – 1 Ninth Life
December 17 – 5 Lapis Luckbugs
December 18 – 3 Booster Boxes
Holiday Login to Win Sweepstakes
Plus, for NA and EU players, login every day between 12AM PST on December 13, 2017 and 11:59 PM PST on January 4, 2018 to receive one entry to the Holiday Login to Win Sweepstakes.
After the sweepstakes period ends we'll select winners at random from all entries and award them with the highly anticipated Shadow Ganda, also known as Yabaki, the Cast Shadow! While the Ganda mount places temporary golden blocks wherever it roams, this version is its opposite – destroying blocks in Club Worlds where you have permission to do so. Click here for full rules.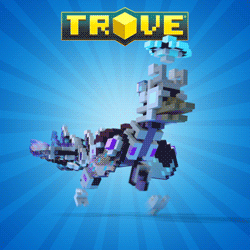 Be sure to login every day to earn free loot and maximize your chances of unlocking the rarest mount in all of Trove!