Player versus Player
The fiercest battles in Devilian take place not against Kavel's forces, but against fellow Devilians! PvP in Devilian takes on a variety of forms, including several objective-based battlegrounds, open world PvP events, and massive Zone Takeover brawls. Depending on the type of PvP you do, you'll be able to fight in either your normal or Devilian forms.

---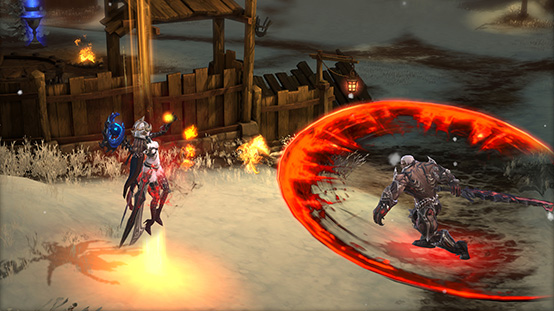 Battlegrounds
Battlegrounds are instanced, team-based PvP arenas where you can queue to battle other Devilians. There are three types available:
20 vs 20: Battle over control points. Hold these regions to earn the points required to win. Defeating enemies will grant you temporary buffs, while claiming watchers will allow you to observe enemy movement.
6 vs 6: Delve into a PvE-style dungeon and race to slay the opposing team's boss before they eliminate yours.
3 vs 3: A simple and straightforward deathmatch. Outwit, outplay, and eliminate your opponents to emerge victorious.
---
Zone Takeover
Battle for mastery over Nala! Each zone has a PvP-enabled channel that you can join, allowing you to compete with other players for control over the Endless Hunting Grounds. Contribute points to your guild by defeating monsters and other Devilians in the area. The guild whose members gain the most points will temporarily take control of the region, displaying the guild's name on the map and increasing that guild's rewards within the area.