Gameplay Basics
In Devilian, you kill monsters, complete quests, and explore dungeons in order to grow in power and defeat Kavel's dark minions. By acquiring Experience Points and Devil Souls, you improve your abilities and learn new skills, transforming yourself into a creature that even evil fears.
As you journey through Nala, you'll find deadly weapons and incredible armor that can be equipped to improve your stats. The best items are found in the most challenging dungeons, so reaching the pinnacle of your power requires you to forge alliances with other players and overcome fearsome trials.

---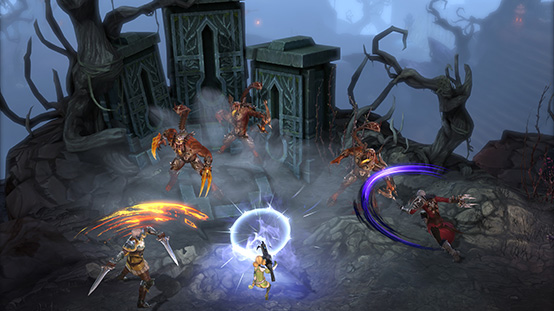 Combat
Devilian is a fast-paced MMOARPG where all the action takes place in real-time. New skills must be added to your hotbar and can then be used with hotkeys. Most abilities in Devilian require you to target the desired enemies or area with your mouse cursor.
Movement in Devilian is handled using either click-to-move or the WASD keys on your keyboard. If you need a quick burst of movement to evade an attack, pressing the Space key will cause you to dodge in the direction of your mouse cursor.
Some enemies will telegraph their attacks with red zones that appear on the ground. Get out of these areas before the attack completes or prepare to enter a world of hurt!

---
Dungeons
Dungeons are instanced adventures intended for both individual and groups of Devilians. As you explore Nala, you'll venture through dark caves and forgotten ruins where powerful villains dwell and incredible treasures await. For truly daring Devilians, it is possible to further increase the difficulty of these dungeons, where greater risks make for even more powerful rewards.
Although many dungeons can be completed by a single Devilian, there are those that will prove very difficult without a group. Don't have friends available to go with you? The party matching tool will automatically match you with players looking to venture into the same dungeons, and, once complete, will teleport all of you directly to the dungeon. When leaving the dungeon, you'll automatically be returned to the location where you started.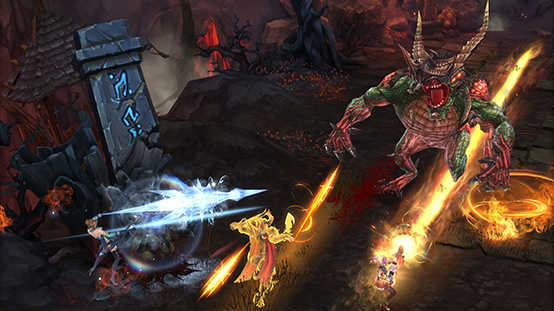 ---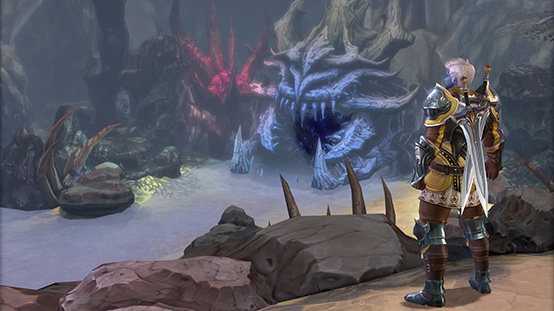 Becoming More Powerful
As you level, you'll gain skill points that can be used to acquire new skills or enhance old ones. Skills are divided into three trees, some of which require you to spend a certain number of points in that tree before they can be unlocked. Once you've purchased all of a skill's upgrades, it becomes "Mastered," indicating it has reached its maximum power.
Your Devilian form levels independently of your character. In order to increase the power of your Awakened Devilian form, you will need to collect Devil Souls from defeated enemies. These Devil Souls can also be used to purchase special Devilian equipment, while Devilian skills are improved using Runes.

---
Join a Guild
Guilds are large groups of players with the same goal. Whether it's mastering PvP, conquering the hardest dungeons and raids, helping newbies, or just hanging out, you'll find guilds for everything in Devilian! You can either create your own guild or apply to join an existing one by speaking with the guild operators in Asperon.
Guilds are able to form alliances with up to two other guilds. Alliances battle for control of Endless Hunting Grounds on the PvP shard, as well as battle head-to-head during guild wars. Just like players, guilds can level up to unlock additional perks and benefits.