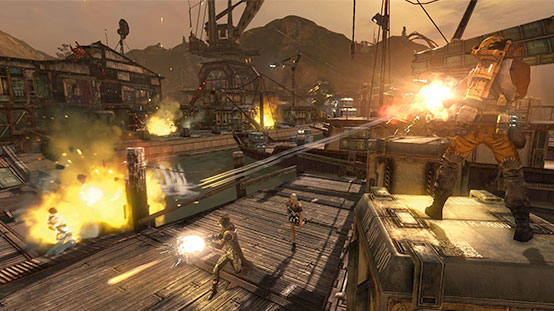 Competitive Multiplayer
Ark hunting is a competitive business, and what better way to monopolize the market than by taking down your competitors in brutal combat. Ark hunters can go toe to toe with whatever arsenal they've earned, competing in an array of maps and game types.
From team-based Shadow War to all-out Deathmatches, there is plenty of fragging to do on the new frontier!
---
Shadow War
Ark hunters in the vicinity of certain arktech will receive mercenary contract invites to an ongoing Shadow War. Those who choose to sign up become what are known as Shadow Operatives, soldiers working in the "shadows" of Echelon, a private military corporation. These Shadow Operatives quickly fill the ranks of two teams. Teams are then directed by Echelon to converge on the fallen arktech, where they must battle to claim the prize.
To the winners go the spoils: Echelon credits to be used on special gear, weapons, and armor, as well as a ranking on the Echelon mercenary leaderboards.