Life at Sea
The oceans of Erenor are expansive, with numerous mapped and unmapped islands and points of interest to discover. Travel on the high seas can be both dangerous and rewarding, and the game provides a range of ships with unique features – as well as strengths and weaknesses – to get you out on the water.

---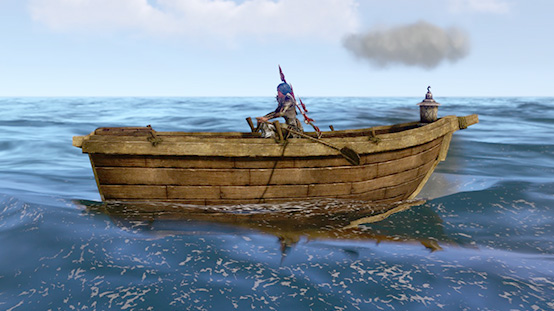 Rowboat
This two-seat craft, which you'll earn in early-level quests, is slow and doesn't have a lot of frills. It will get you there in a pinch, but leaves you very vulnerable to attack from both players and monsters if you stray too far from the coast.

---
Clippers: Harpoon Clipper and Adventure Clipper
These inexpensive adventuring boats are small, fast, and highly maneuverable. The Adventure Clipper comes with an underwater breathing apparatus and a side-mounted cannon. The ability to open or return fire will come in handy in a tight spot, and the Clipper's maneuverability means it can get more than a few hits in against a larger, slower boat.
The Harpoon Clipper comes outfitted with two underwater breathing devices, a portable harpoon cannon, and a front-mounted large harpoon. Harpoons come in handy for latching on to other ships, as when using the Clipper to chase down high-value targets for boarding.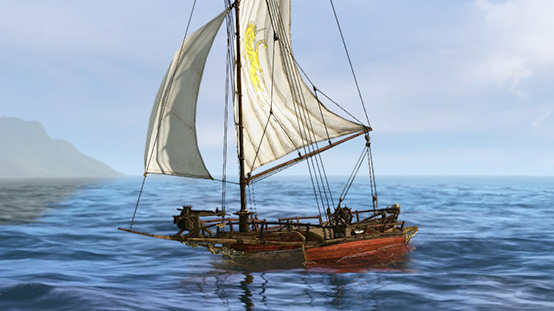 ---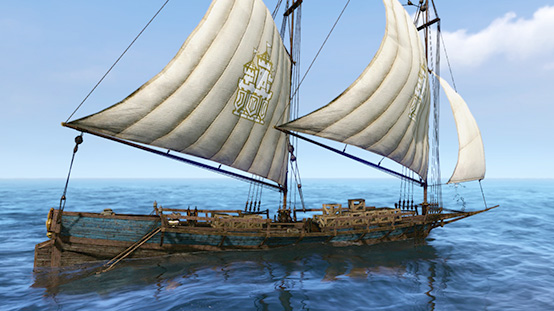 Merchant Ship
Long, low, and fast, the Merchant Ship is a two-masted speed machine engineered for bulk transport of resource and trade packs across the seas. Twenty packs can be stored in the crates on deck, two cannoneers can man the guns mounted left and right mid-ship, and a spotter can be posted on the bow telescope to monitor the area for incoming boats. Two underwater breathing devices are provided for recovery operations.
Despite its speed, this workhorse is not particularly maneuverable, and a fully loaded merchant ship is the juiciest prize on the seas. Bring defenders!

---
Small Warships: Eznan Cutter and Lutesong Junk
Warships are the height of naval power and the pride of their respective factions. These large, powerful ships pack heavy firepower, can take a beating, and provide a base for smaller, faster strike teams.
Warships are slow to move and slow to turn. On the flip side, they can laugh off all but the nastiest of sea creatures, and can easily solo most small boats they encounter. Warships are at their best when manned by a good-sized crew, as they come with multiple features:
A portable harpoon gun on the rear deck can be equipped by a crewmember.
Large light sources at the rear of the ship keep the captain's area illuminated.
Eight cannons, four per side, stand ready to rain destruction on your targets.
Four storage chests will haul your trade or resource packs.
A mid-ship or crow's nest compass with intermediate range gives you a good overview of forces in your area.
Extendable planks on either side are not just for walking; you can launch yourself and your glider from these as they "open," and they make good landing pads as well.
Below the deck, six underwater breathing devices support treasure hunting (or stealth operations – you decide!).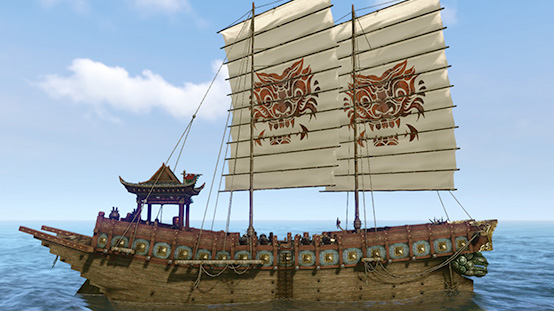 ---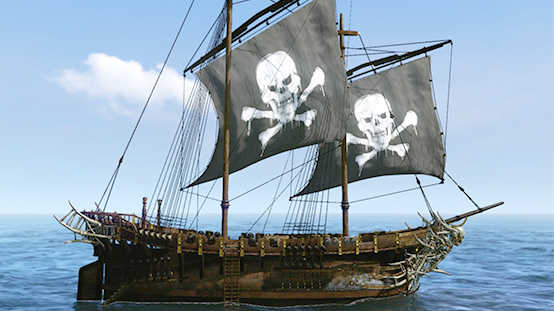 Small Warship: Growling Yawl
There are those who will swear that a third class of warship haunts the seas, one whose plans are never sold by a reputable shipwright. Designs for this ship are supposedly a secret, carried separately in many small pieces, all of which are required before it can be built.

---
Medium Warship: Enoan Galleon
This superior warship is the largest player-owned craft on the Arcadian Sea. In addition to a deck that can convert from travel to combat modes and an oar crank that allows players to manually increase the ship's speed, this beastly boat also features:
A trio of masts to catch the wind, two with double-rigging and one with triple-rigging.
Three separate boarding planks to help your crew assemble.
4 underwater breathing devices assist with stealth assaults on enemy ships.
8 to 10 cannons (depending on your ship's mode) that can rain destruction on your enemies.
A single pipe organ so the captain can add suitably epic music to any encounter.
The Enoan Galleon can be obtained by defeating the dreaded Leviathan or collecting design scraps by killing lesser sea beasts.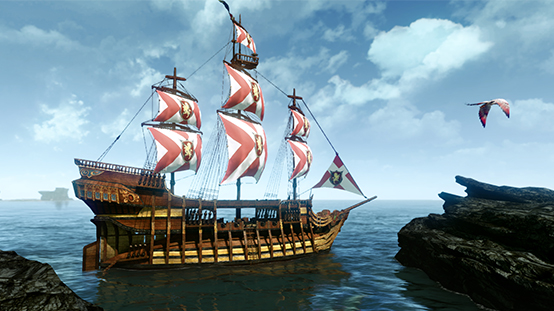 ---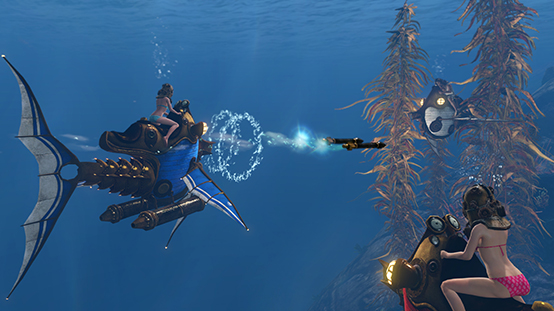 Steamfish Submarines
Submarines are a special type of ship, able to travel at moderate speeds while completely submerged. They are able to seat up to two passengers and are primarily used to unearth sunken merchant ships or travel at great depths. In addition, submarines feature a variety of potential enhancements that can be equipped, including speed boosters, unlimited underwater breathing, and offensive air blasts.

---
Luxury Watercraft
There are a variety of other strange ships to be found in Erenor, ranging from the swift Seaskimmer Speedboat to the swan-shaped Winged Love Paddleboat. The ocean is your oyster, so cross it the way you want!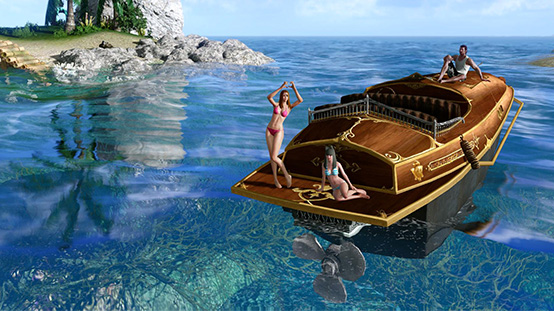 ---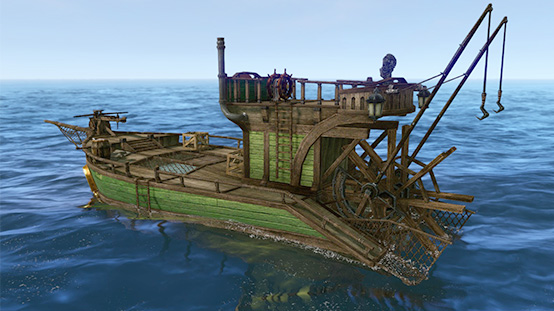 Fishing Boat
The fishing boat is a specialized craft for sport fishing. While it has some common features like a front-mounted harpoon and storage crates, its real strength is the central compartment that can hold several large fish, along with two rear hooks to carry extra-large specimens. This boat also comes equipped with sonar to detect large fish schools within range. If the goal of your seafaring is advanced fishing, this is your ride!

---
Ship Customization
Once you've got your own ship, you'll have a lot of options to customize it. New sails, cannons, and figureheads can all be crafted by a Machinist and used to replace your ship's default options. In addition, there are a variety of useful add-ons that can be equipped to your ship, including masts, rudders, breathing devices, radar, sonar, and even pipe organs!
Only the captain and owner of a ship can modify it, and only while near a faction-aligned Ezi's Light. These modifications alter the weight of your ship, changing both its speed and ramming damage. In addition, much like the ship, these modifications can be damaged in combat, forcing you to repair them if they're destroyed.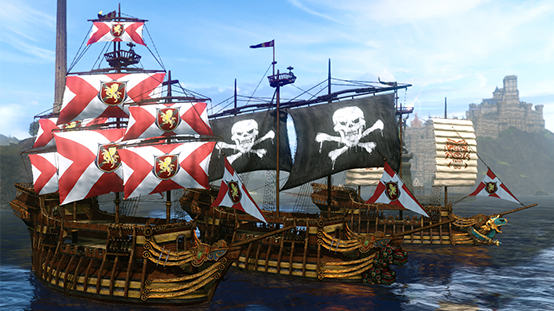 ---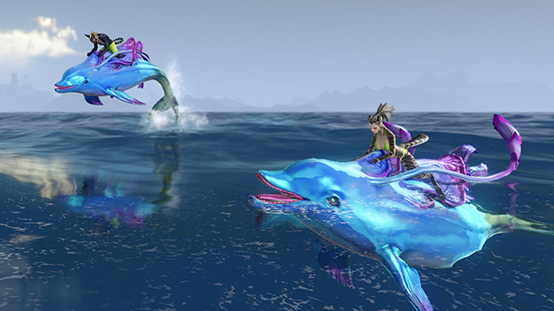 Sea Mounts
Much like land mounts, sea mounts come in a variety of shapes and sizes – including sea horses, dolphins, and sea bugs – and are able to carry one or two passengers at a time. These mounts possess unique, water-based abilities, as well as the ability to swim swiftly in lakes, streams, and oceans. Of course, the trade-off is that these mounts don't tend to function too well on land – fish out of water and all!

---
Building and Summoning Your Boat
All boats follow a similar path for creation. You first need to buy or acquire the plans and appropriate materials to build a drydock on open water. Once built, a drydock will last only three days, so be sure you can provide the rest of the boat-building materials in time!
Bring resource packs to the drydock in the order required (based on type of ship you're building) to progress construction. Once complete, the boat will be launched, and you will be able to summon and de-summon it from a deed in your inventory. Enemies can take over the steering of your boat, but ownership will remain yours; they cannot de-summon it to their inventory.
Custom Sails
The design that appears on a boat's sails can be customized as part of the user-created content system. This can be guild crests or personally designed images that you upload to the game!