Traversing the Land
The world of ArcheAge is vast and seamless, with a huge range of landscapes from arid deserts to tropical shores to forbidding mountain peaks. In keeping with the theme of choosing one's own path, there are also a variety of transportation options throughout the lands – both player-controlled and automated.

---
Mounts
Your first mount will likely come from one of the early quests in the game, but those and others are also available from various merchants or as rare rewards. Mounts are often obtained as babies, and you'll need to raise and care for them until they grow into a suitable companion!
Once grown to an adult, mounts can be summoned into the world. They act like a separate character, in that they have their own health bar, stats, experience and level, slots for equipment, and collision. You can ride your mount or have them follow you as you run around; mounts also have different abilities that are gained as they level and can be used while you're riding. They can also be attacked by hostile NPCs – or hostile players – bent on disabling your means of escape.
Mounts can be named, have abilities you can use while you're riding, and some (horses, elk, and snowlions) can even carry more than one character. This is especially handy for moving Trade Packs!

Starting Mounts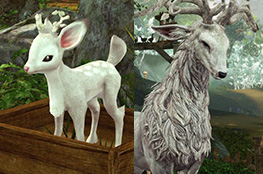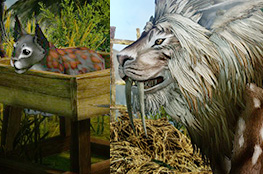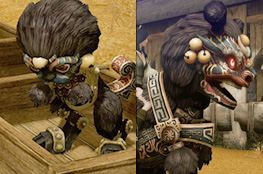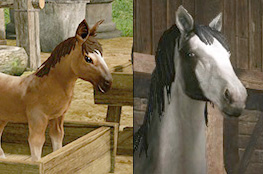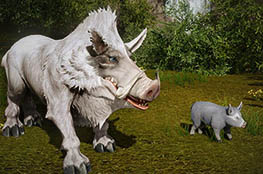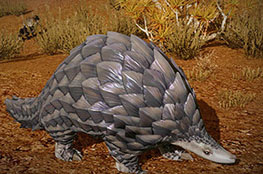 As your mounts level up, they gain more health, mana, abilities, and access to sturdier mount armor. Armor provides additional protection and is visible to others when equipped. Basic armor can be purchased from stables, but there are special sets that can be obtained as drops or during events.
If your mount is defeated, you will be able to summon it again after a short cooldown.

---
Advanced Mounts
Advanced Mounts are not unique to specific races. These mounts come in all shapes and sizes – ranging from mighty bears to steadfast snails – and possess unique skills and abilities based on their species.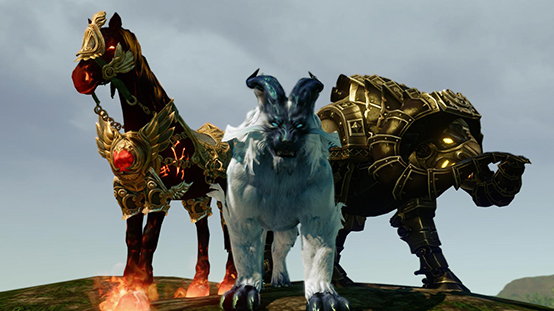 ---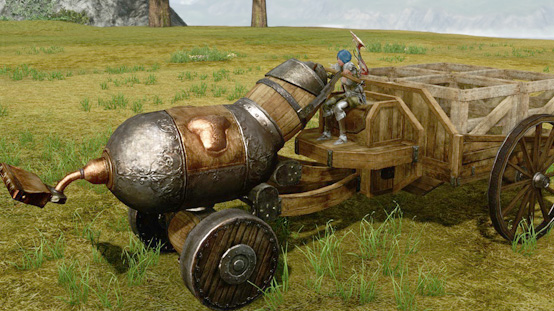 Farm Hauler
Farm Haulers are crafted land vehicles that act as summoned objects – similar to boats – that can be used to bulk-water planted crops and carry Trade or Resource packs, allowing a single player to drastically increase the efficiency of their farming and land trade routes.
Creating a Farm Hauler is a life-long investment, as it can be upgraded from a simple 2-slot Farm Cart all the way to the massive 8-slot Farm Freighter!

---
Vehicles
These high-end, mid-tech roadsters require significant investment to build and maintain. Accidents are common and safety features are lacking in these high-speed wood and metal contraptions, but it's hard to beat their style! But flashy looks aren't their only advantage – they can also carry two trade or resource packs in the storage compartment!
In addition, cars can be upgraded to a second tier, increasing their overall performance and allowing players to customize the decals on the hood and sides.
Looking for something smaller, but still pretty fast? Then grab a Longboard and zip across Erenor while carrying a Trade Pack!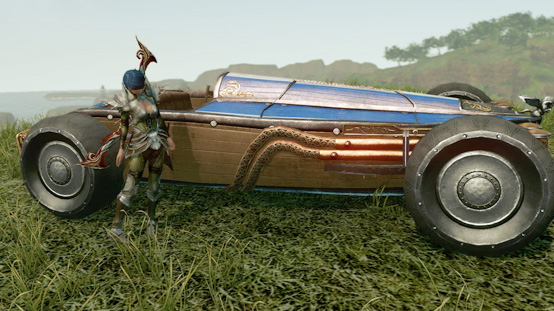 ---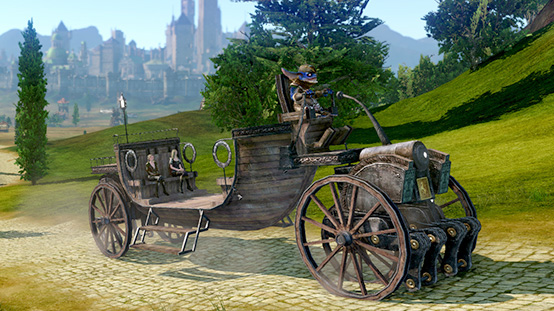 Carriages
Carriages run back-and-forth routes between two Carriage Stations, often between zones. They offer four bench seats that will help secure your character (and any pack cargo you might have) to the carriage, and you can jump on and off at any time. Carriage Stations at either end of the route offer a telescope that lets you view approaching carriages from a sizeable distance.
---
Worldgates
As you travel through Erenor, you'll come across large registers in towns called Memory Tomes. Interacting with a Memory Tome will set it as your recall point, which you can return to any time with your Recall ability.
You can also open a Worldgate to a location saved in your teleport book. Just select the specific location you wish to travel to and jump (literally, jump!) into the gate to teleport. One Hereafter Stone will be consumed if traveling within your continent; three will be consumed if the travel is cross-continental.
In addition to the designated Memory Tome locations in the game, you can also add the location of player-built houses to your teleport book by using the house's fireplace. Buy Memory Ink from a general merchant and bring it to the house whose location you wish to memorize. Light the fireplace and use the memorization option to add the house's location to your teleport book! You can now return there at any time using Worldgates and Hereafter Stones just like other Memory Tome locations. You can even save and prioritize your favorite teleport locations with the teleport book.