Through the Skies
In a hurry? Take to the skies on the wings of your personal glider and launch yourself soaring over the lands of Erenor, or board one of the giant airships that fly along trade routes connecting one region to the next!

---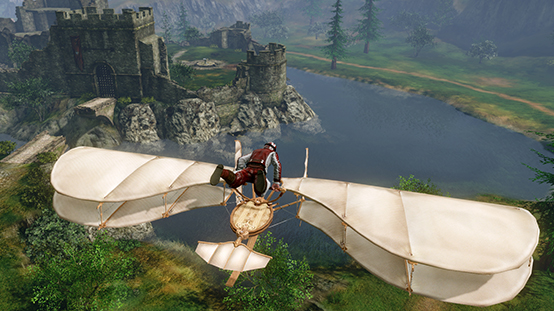 Gliders
Gliders are a unique take on flying mounts that allow you to control your character in the air. They come in a variety of models with a range of special abilities including upward boosts (to quickly gain altitude), explosives to drop on targets below, self-destruction, quick side-rolls, and more. In addition, some gliders possess additional unique qualities. For example, there are zones in Erenor that possess turbulence that only certain gliders are capable of overcoming.
The basic glider is offered through an early quest line. As you encounter new gliders in your journey, you can easily compare them based on their ratings in the following attributes!
Flight Speed
Gliding Ability
Turning Speed
Launch Height
Ascension
Gliders can be enhanced twice using the Machining skill, improving the glider's stats in one or more areas.
Another type of glider is the wing-type Magithopter. This specialized glider possesses weaker flight and flight duration skills, but are more mobile and possess superior hovering abilities.

---
Airships
Airships fly between two designated Airship Towers. These tend to be routes that cut significant time off of ground travel, but may require waiting at the tower for the airship to arrive. Once on board, you can also jump off of an airship mid-route, but gliders are recommended; these machines fly high above the ground! You should also exercise caution while riding airships unattended; watch out for shady characters hoping to isolate a target or push unaware travelers over the railings.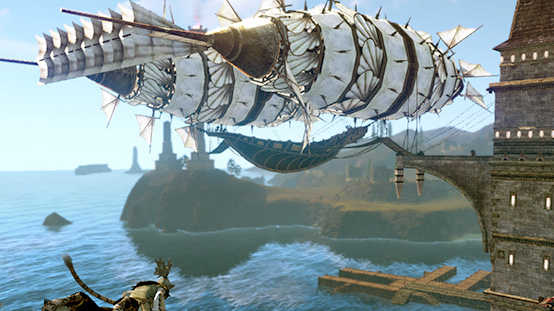 ---
Aerial Mounts
Certain special mounts – including griffins, pegasi, drakes, and the legendary wyverns – also possess the ability to glide. While these mounts possess smaller skillsets than ground mounts, does it really matter when you can take to the skies?