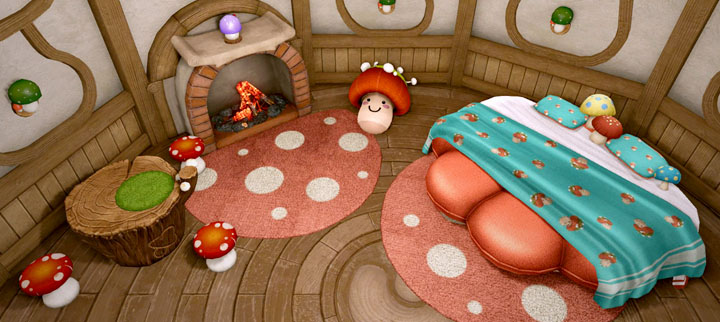 Ever wanted to live in a mushroom? Well now's your chance thanks to the new Mushroom House. Just watch out for badgers.

Mushroom Decor Bundle – Fresh Start & Legacy
If you're feeling especially fungal, you can decorate your homestead with these 7 adorable pieces of mushroom themed furniture. Collect all 7 in one bundle, or pick them up individually.
The 7-piece bundle and individual items are available on both Fresh Start and Legacy.
Mushroom Mattress
Carved Stump Table
Toadstool
Mushroom Carpet
Mushroom Table Lamp
Mushroom Wall Lamp
Mushroom Plushie
Mushroom House – Fresh Start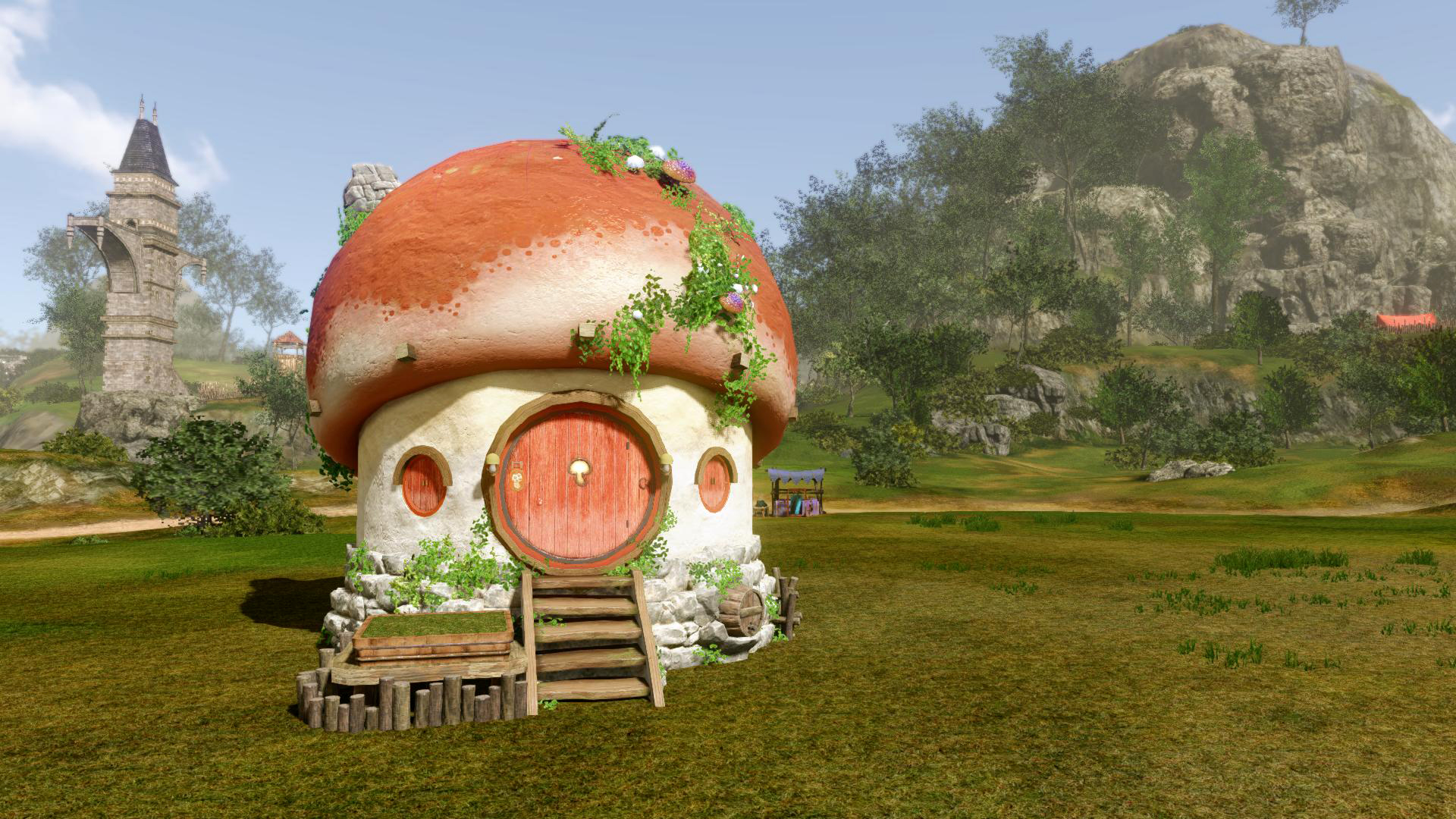 The Fresh Start version of the Mushroom House Crate (450 credits) can possibly include the following items:

Common Drops:

Healing Grimoire
Meditation Grimoire
Bound Hereafter Stone
Honor Boost Tonic
Marshmallow Sugar Pumpkin
Bound Tax Certificate
Flaming Pinion
Lucky Quicksilver Tonic
Vocation Expertise Tonic
Greedy Goblin Gummies
Frankenflavor Jawbreaker
Uncommon Drops:

Companion Crust
Building Management Title
Vocation Tonic
Specialization Snowflake
Expansion Scroll
Yellow Regrade Charm
Super Armor Temper
Super Weapon Temper
Professional Tonic
Crest Trade Pack Storage
Red Regrade Charm
Companion Crust
Building Management Title
Vocation Tonic
Rare Drops:

Superior Yellow Regrade Charm
Design: Forest Mushroom House
Expansion Scroll
Professional Tonic
Superior Red Regrade Charm
Weekly Sale – Fresh Start
Sale Duration: May 31st – June 7th
New items on sale each week! Only available on Fresh Start servers (Nui & Ezi).
Expansion Scroll x5
Decor Limit Increase
Family Growth Ticket
Specialization Snowflake
Saving Pendant
Glider Sale – Fresh Start
Sale Duration: May 31st – June 7th
Take to the skies, explore, and discover the new lands available in Auroria with the release of Phase 2 and these great Gliders and customizations, all for 20% off!
NOTE: This may look familiar. This sale ended incorrectly on the 24th, so they'll be going back on sale again.

Imperial Jade Wings
Corrupt Ally's Wings
Pure Ally's Wings
Loving Ally's Wings
Glider Customization: Flames
Glider Customization: Spring Breeze
Glider Customization: Silver Shadow
For those adventurers seeking airborne superiority, improving your glider is important. Purchase a Glider Wingmaker Scroll for 500 Credits and get a bonus Glider Manacharge Scroll as well! Enjoy the breeze.
Mushroom House Crate – Legacy
We'll be releasing the Mushroom House Crate on Legacy servers next week!
The Legacy version of the Mushroom House Crate (450 credits) can possibly include the following items:

Common Drops:

Lucky Quicksilver Tonic
Honor Boost Tonic
Vocation Expertise Tonic
Healing Grimoire
Meditation Grimoire
Greedy Grimoire
Clear Synthium Shard
Combat Scrolls: Attack
Synthium Soap
Expansion Scroll
Specialization Snowflake
Vivid Synthium Shard
Bound Hereafter Stone
Expansion Scroll
Majestic Tree
Mining Drill
Salon Certificate
Uncommon Drops:

Multi-Wagon Upgrade Ticket
Lucid Synthium Shard
Majestic Tree
Mining Drill
Crest Trade Pack Storage
Special Pirate Plushie Trove
Multi-Wagon Upgrade Ticket
Language Proficiency Spellbook
Aurora Storage Chest
Indomitable Hostility Lunafrost
Indomitable Transcendent Lunafrost
Indomitable Tracker Lunafrost
Indomitable Love Lunafrost
Distorted Hostility Lunafrost
Distorted Tracker Lunafrost
Distorted Transcendent Lunafrost
Distorted Love Lunafrost
Design: Forest Mushroom House
Rare Drops:

Wrapped Serendipity Stone
Prime Armor Temper
Prime Weapon Temper
Radiant Synthium Shard
Resplendent Armor Temper
Resplendent Weapon Temper
– The ArcheAge Team