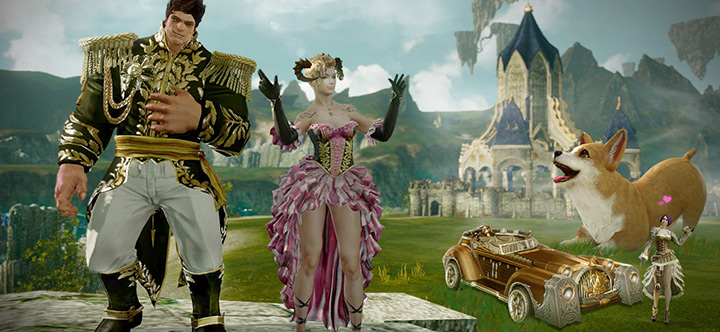 Come and join us in celebrating the 3rd year anniversary of ArcheAge with puppies, fireworks and plenty of gifts and rewards.

Happy 3-Year Anniversary!
To celebrate our 3 year anniversary with all you adventurers we're providing you with a 0-credit claim that grants you a whole bunch of awesome stuff!
Head over to Glyph and grab it all on the 14th! (Keep in mind, this is only ONCE PER ACCOUNT, so be sure to claim it on the correct character!)
Title – Thrice Triumphant (no stats)
1 Victory Ball Attire
8 Pieces of Balloon Furniture (tradeable)
4 3rd Anniversary Coins
2 Snowflake Festival Fireworks (20 Loyalty each)
3 Round Festival Fireworks (15 Warrior's Medals each)
12 Heart Festival Fireworkds (4 Merit Badges each)
1 Homecoming Vehicle Coin (Temporary 30-day car)
Puppies and Pyrotechnics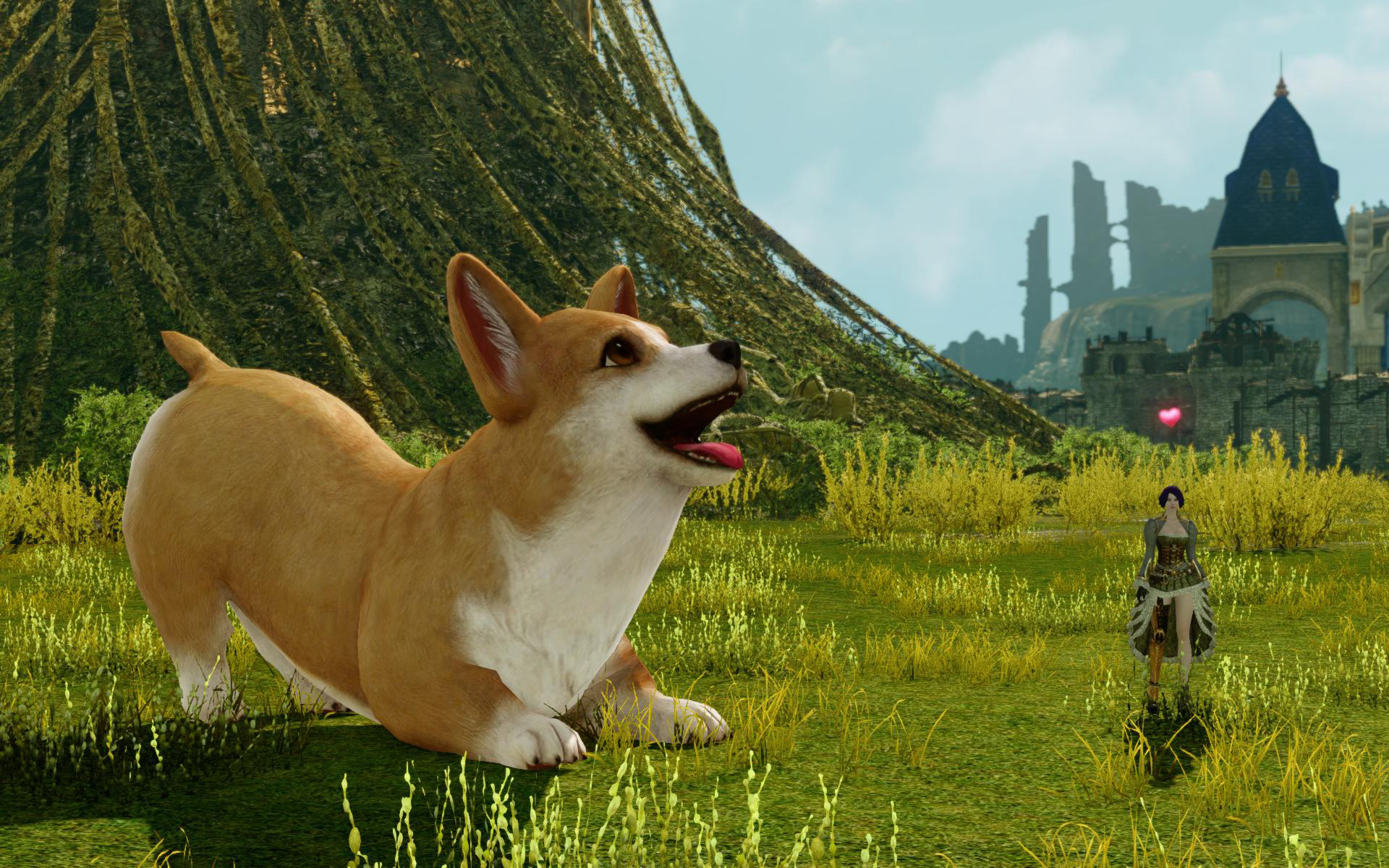 Make a new doggo-friend from September 14th to October 18th. Head over to Diamond Shores and help Amary with Kirby, her giant escaped corgi! Feed, play with, bathe, and brush Kirby to his heart's content to earn 3rd Anniversary Coins, which can be traded in for capsules that contain various rewards. Take good care of Kirby to get lots of capsules!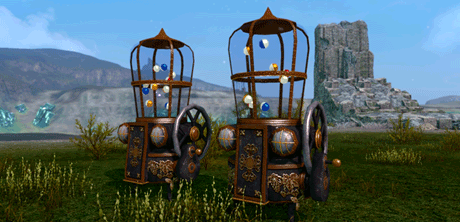 Each of these "Mirage Capsules" can contain any of the following possible rewards:
Common Drops:

Bound Hereafter Stone
Bound Eco-Friendly Fuel
Gilda Star
Merit Badge
Warrior's Medal
Bound Lucky Quicksilver Tonic
Adventurer's XP Boost Potion
Bound Vivid Synthium Shard
Worker's Inspiration
Secret Gift
Honorable Vocation Potion – Rank 10
Honrable Victory – Rank 10
Companion's Growthstone
Adventurer's Growthstone

Uncommon Drops:

Abyssal Crystal
Abyssal Shard
Bound Lucid Synthium Shard

Rare Drops:

Divine Armor/Weapon/Accessory Anchoring Emblem
Divine Armor/Weapon/Accessory Anchoring Shards
Celestial Armor/Weapon/Accessory Anchoring Shards
Celestial Armor/Weapon/Accessory Anchoring Emblem
Bound Duun's Blessing
Wrapped Serendipity Stone
Cloaked Dungeon Weapon: Unique
Bound Resplendent Armor/Weapon/Accessory Regrade Scroll
Proven Warrior's Armor Crystal: Unique
Bound Radiant Synthium Shard
Transmuter

Very Rare Drops:

Ipnysh Sunlight/Moonlight/Starlight Blessing
Wrapped Rampage C200
For the duration of this event the area around Kirby will be a Peace Zone, however, Diamond Shores will not be placed into Festival mode.
Also from September 14th to October 18th, you can return to Falcorth Plains to participate in this year's Shadowguard Festival!
To visit the festival, either take an event world gate at Austera, Marianople, Growlgate, or Diamond Shores to Falcorth Plains, or visit the area by foot. During the event, Falcorth Plains will be in Festival Mode, which prevents PvP from taking place (except Guild Dominions.)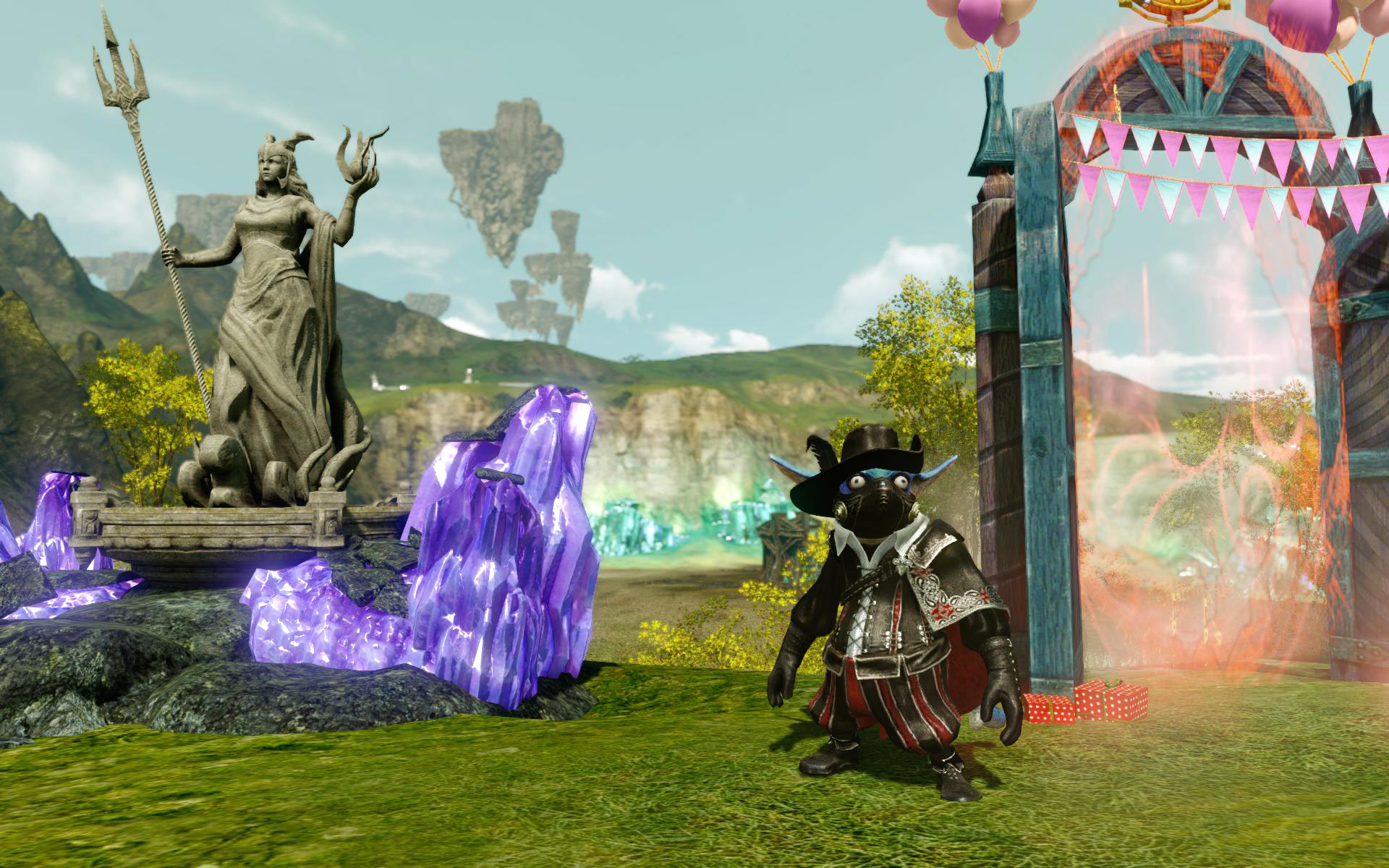 3rd Anniversary Shadowguard Coin Quests
Follow Kayman's instructions for making fireworks by collecting Snowlion Fur and Gunpowder.
Visit Fireworks Merchant Vukoph to craft a Fireworks Trade Pack.
Deliver the Fireworks Trade Pack by speaking with Fireworks Merchant Vukoph, and then climbing up the cliffs to Zeta.
Celebrate in style with Zeta by detonating your newly delivered fireworks!
Deliver 30 lumber to Tehasha to aid with the festival.
Help Umta lure and capture baby falcons to conserve the species.
Shadowguard Rift and Anthalon's Elite
While the festival is ongoing, the Shadowguard Rift will appear in Falcorth Plains at 11:00 PM in-game time. Receive the rift quests from the Shadowguard Rift Recruiter in Falcorth to earn both 3rd Anniversary Shadowguard Coins and up to 400 Honor and 400 Vocation Badges for completing the quests.
Consider yourself a brave soul? Or a lover of corgis?
As part of the parallel Giant Kirby event in Diamond Shores, characters of level 40+ can accept a quest from Tehasha in Falcorth, and help cheer up Kirby the Corgi by defeating Anthalon's Elite in Whalesong Harbor. Doing so will earn them additional Anniversary Coins and Shadowguard Coins.
Only 3 gold? Perfect for Profit
Speaking of coins – from September 14th – September 20th players may list items on the AH for a max of 3 Gold! (Usually the max is 100g). It's a good time to offload those really pricey items with little cost to yourself.
Thank you for your years of support and welcome to all of the fledgling adventurers as well! Now get out there and start the party!
– The Archeage Team