Prepare for epic adventure and colossal construction with Trove Starter Packs. Unlock more Classes to spit fire, sling plasma, and vanish into the shadows right out of the gate. Load up on blocks to create a masterful Cornerstone, or fill your pockets with Credits to redeem on special loot at the in-game store!
Starter Packs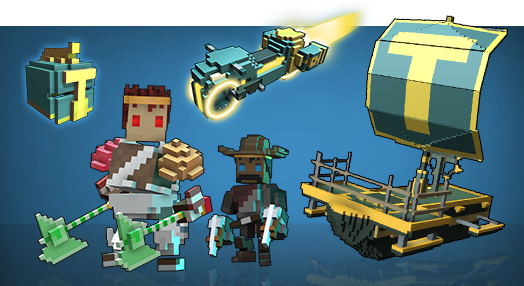 The perfect bundle for any Trovian – don't leave home without it! Try new classes with two Class Tokens or get your masterpiece underway with oodles of primal blocks. Get the upper hand during your adventures with flasks that grant a movement speed buff and temporary invulnerability. Explore the skies with new fiery wings and blaze across the lands on a Supercycle only available in the Power Pack (including a helmet to match! Safety first.)
Includes
Two Class Tokens (non-tradable)
Two Flask Tokens (non-tradable)
Fire Wings
3 Pearls of Wisdom
2000 of each primal block
Trovian Supercycle
Trove Topper
S.S. Trovian
Trovian Sail
$1999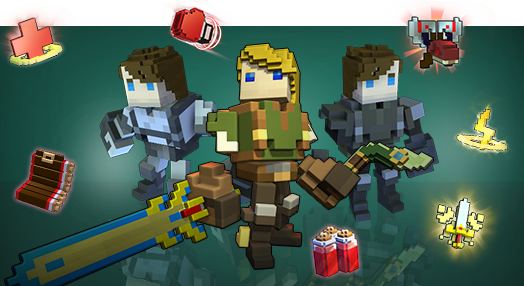 Grab The Adventure Pack and run headfirst into danger! Master of Bow, Blade, Bomb, and Boomerang, the new Boomeranger class is well suited to take on any challenge! Dress to thrill with the included Dark and Winter Boomeranger costumes. Also get a head-start on the new Flask system with two vials and five emblems.
Includes
Boomeranger class
Dark Boomeranger Skin
Winter Boomeranger Skin
2 Flasks Vials:

Elysian Bandolier (20% heal, 18 starting max capacity)
Balanced Elysian (50% heal, 12 starting max capacity)

5 Flask Emblems:

Energizing Rain (restores energy to all nearby allies when you use a flask)
Soothing Rain (restores health to all nearby allies when you use a flask)
Rampant Repellent (pushes enemies away from you when you use a flask)
Berserk (increases damage, attack speed, and movement speed when you use a flask)
Martial (drastically increases physical damage when you use a flask)
$1999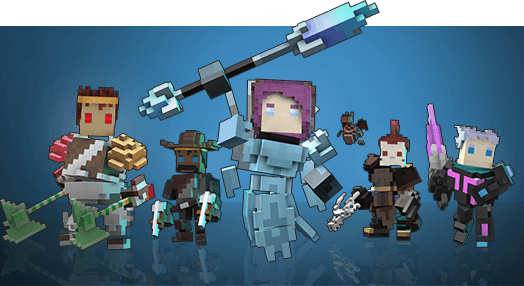 Variety is the spice of life, and with this pack you'll have your pick from Trove's huge collection of classes! Go in with guns blazing as the Gunslinger, spit fire as the Dracolyte, or keep your cool as the Ice Sage. Got a sweet tooth? No problem, the Candy Barbarian will give you a sugar rush. Let the Neon Ninja light up your world or treat yourself to the Fae Trickster. Try them all!
Includes
Five Class Tokens (non-tradable)
$1999
Accounts that have already unlocked included items will not receive duplicates of items contained within the pack. This includes Classes, Costumes, Mounts, Ships, Wings, and any other items included as part of the pack.
---
Credits
3250
3,000
+250 Bonus
3250 Credits
$2000
8500
7,500
+1000 Bonus
8500 Credits
$5000
18500
15,000
+3500 Bonus
18500 Credits
$10000