Prepare for epic adventure and colossal construction with Trove Starter Packs. Unlock more Classes to spit fire, sling plasma, and vanish into the shadows right out of the gate. Load up on blocks to create a masterful Cornerstone, or fill your pockets with Credits to redeem on special loot at the in-game store!
Starter Packs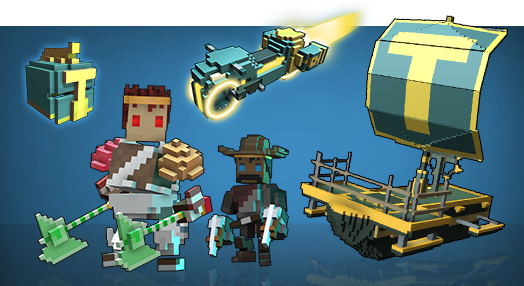 The perfect bundle for any Trovian – don't leave home without it! Try new classes with two Class Tokens or get your masterpiece underway with oodles of primal blocks. Get the upper hand during your adventures with flasks that grant a movement speed buff and temporary invulnerability. Explore the skies with new fiery wings and blaze across the lands on a Supercycle only available in the Power Pack (including a helmet to match! Safety first.)
$1999
Includes
Two Class Tokens (non-tradable)
Unyielding Flask and Trailblazer Flask
Fire Wings
3 Pearls of Wisdom
2000 of each primal block
Trovian Supercycle
Trove Topper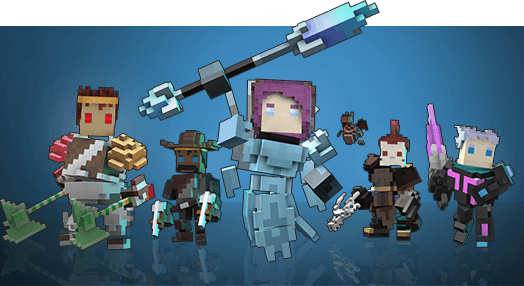 Variety is the spice of life, and with this pack you'll have your pick from Trove's huge collection of classes! Go in with guns blazing as the Gunslinger, spit fire as the Dracolyte, or keep your cool as the Ice Sage. Got a sweet tooth? No problem, the Candy Barbarian will give you a sugar rush. Let the Neon Ninja light up your world or treat yourself to the Fae Trickster. Try them all!
$1999
Includes
Five Class Tokens (non-tradable)
---
Credits
3250
3,000
+250 Bonus
3250 Credits
$2000
8500
7,500
+1000 Bonus
8500 Credits
$5000
18500
15,000
+3500 Bonus
18500 Credits
$10000