Trove Bundles
anchor 1
---
Purchases only valid for PC & Mac. Purchases for
Xbox One
and
PlayStation®4
versions must be made on their respective in-game or online stores.
Revel in the wonders of the Sun, Moon, and Shadow all at once with this brand new pack. Brimming with new content, this pack features a whole mountain of mounts (including a pair of lethal skysharks), an alliance of allies, and a whole heap of super styles.
Look good doing good thanks to the supersized Mega Menagerie Pack!
Not only does this epic pack contains more than 40 awesome items, but it also features a heaping helping of charitable goodness! That's right, a portion of proceeds from this special pack will be donated to Extra Life to help support the Children's Miracle Network Hospitals!
Radiant Skyshark

Seat of the Sun

Serene Skyshark

D'awtter of the Moon

Shadow Carpet

Marauding Mormolok

Lunar Rabbit

Solar Ribbit

Shifty Shadowbat

3 Helmet Styles

3 Melee Styles

3 Pistol Styles

3 Bow Styles

3 Staff Styles

3 Spear Styles
Buy Now
Tanbleddyn of the Western Peaks Dragon Egg

Fulguras, the Lightning Blade Dragon Egg

6 Magnificent Mounts

14 Adorable Allies

4 Crazy Costumes

8 Hip Hat Styles

5 Fearsome Face Styles

5 Wicked Weapon Styles
Buy Now
Strike fear into the hearts of your foes with two incredible dragons: Yorinn, the Dusk Shadow, and Erel, the Ironbolt. Raise these fearsome flying mounts from their eggs, and you'll rain fire and lightning down as you glide across the sky.
Dive into the world of Trove with everything you need to start your heroic journey!
This pack is perfect for new players, providing an amazing assortment of aides that'll assist while ambling about the multiverse. Over two weeks of Patron bonuses, a collection of classes, a mountain of mounts, and much, much more!
30 Gem Booster Boxes

2 Empowered Gem Boxes

2 Double Experience Potions (lasts 1 hour, even when offline!)

2 Radiant Sovereigns (redeemable for great prizes in the Hub)
Buy Now
8 Adorable Allies: Radar, Drizzy, Poisonous Perry, Sandwich, Corinne, Skrgle, James Joystick and Dr. Qubesly

4 Magical Mounts: Platypus, Guinness, Rowdy, and Centaur

12 Slick Styles: 5 Helmets, 3 Hats, 1 Mask, 2 Spears, 1 Pistol

2 Dormant Dragon Eggs: Yorinn the Dusk Shadow, Erel the Ironbolt
Buy Now
Ten Class Coins (non-tradable)

Fire Wings

Trovian Supercycle

Tome: Dragon Coin

Tome: Jade Clover

10 Omni Mount Unlockers

Trove Topper

S.S. Trovian

Trovian Sail

50 Gem Booster Boxes

100 Bombs

15 days of Patron Pass time
Buy Now
Dark form meets the darkest function in this shadowy pack.
Sneak away from danger with the help of this awesome set of goodies, including a War Horse mount and Fae Drakeling ally!
Hot style meets the hottest efficiency in this incendiary pack.
Heat things up with this seriously cool collection of treasures, including a Dragon Tiger mount, a Feisty Flamedancer ally, and Flame Skimmer ship with Dragonblade sail.
Sublime design meets the sublimest power in this divine pack.
Achieve enlightenment and become a true hero with this unmatched treasure trove, including Xero Line wings, a Cygnus-01 Speedcycle mount, a Shield Servitor ally, and both the Chaotic Clipper and Chaotic Cruiser ship with Frost Fae and Inner Sea sails.
2,000 Credits

War Horse mount

Fae Drakeling ally

3 days of Patron

1 Inventory Expander

30 Dragon Coins
Buy Now
5,000 Credits

Dragon Tiger mount

3 random new mounts

Feisty Flamedancer ally

Flame Skimmer ship with Dragonblade sail

15 days of Patron

3 Inventory Expanders

90 Dragon Coins
Buy Now
10,000 Credits

Xero Line wings

Cygnus-01 Speedcycle mount

10 random new mounts

Shield Servitor ally

Chaotic Clipper ship with Frost Fae Sails

Chaotic Cruiser ship with Inner Sea Sails

30 days of Patron

10 Inventory Expanders

150 Dragon Coins
Buy Now
Accounts that have already unlocked included items will not receive duplicates of items contained within the pack. This includes Classes, Costumes, Mounts, Ships, Wings, and any other items included as part of the pack.
Purchases only valid for PC & Mac. Purchases for
Xbox One
and
PlayStation®4
versions must be made on their respective in-game or online stores.
Become a Patron
---
Enhance your experience in Trove by becoming a Patron! With a recurring Patron Subscription or individual Patron Passes* you'll enjoy huge boosts that'll have you leaping to greater heights (literally!) in no time. Charge into dungeons, explore countless realms, and craft epic loot with supreme confidence as you fulfill your destiny of being the best on the block!
+50% ExperienceLevel up faster with +50% more XP gain. Onward to greatness!
+4 Chaos FactorPut chaos in your favor and get +4 more loot-filled Chaos Chests each day.
+2 Flask CapacityAdventure longer and harder with +2 more Flasks to boost and heal you.
+5 JumpLeap to greater heights with +5 Jumps added to your multi-jump stat.
+50 LasermancyMine ore at super speed with a boost to your lasermancy.
+100% Crafting SpeedBecome a master constructor and craft blocks, bombs, and more twice as fast.
2x Magic FindFind and collect stronger, more powerful loot in all of your adventures!
2x Gem Box KarmaWhat goes around comes around: get guaranteed Rare drops twice as often!
2x Shadow Key Fragment DropsGet twice as many Shadow Key Fragments.
3x Daily CubitsStuff your pockets by collecting 1,000 bonus Cubits per Star Bar.
2x Daily RewardsAmass a giant collection by getting twice as many daily bonuses.
+100% Battle FactorEarn up to twice as many Battle Boxes each week.
2x Battle Box Drop RateGet all your Battle Boxes twice as fast.
* Non-recurring 15-Day and 30-Day Patron Passes are available in-game!
Credits
---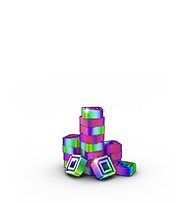 750
750
0 Bonus
750 Credits
+0 Radiant Sovereigns
$499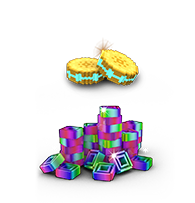 3,250
3,000
+250 Bonus
3,250 Credits
+2 Radiant Sovereigns
$1999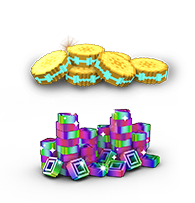 5,000
4,500
+500 Bonus
5,000 Credits
+6 Radiant Sovereigns
$2999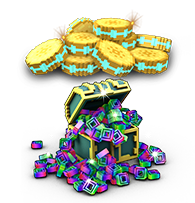 8,500
7,500
+1,000 Bonus
8,500 Credits
+10 Radiant Sovereigns
$4999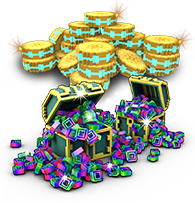 18,500
15,000
+3,500 Bonus
18,500 Credits
+25 Radiant Sovereigns
$9999